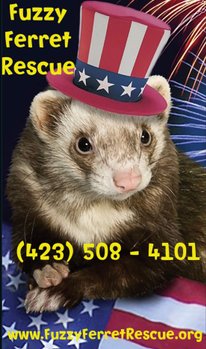 Wanting to foster?
Fill out the application by clicking
Wanting to adopt?
Fill out the application by clicking
If the ferret has NOT had vaccinations at the vet, it will require two distemper vaccinations. Average time to find the right adoptive home is three months at a cost of $5 per week. Costs of taking in a ferret: two distemper vaccinations $20; treatment for fleas, ear mites & worms $10; care for & feed for three months $65. If the ferret has to be seen by the vet for anything, minimum cost is $40. Cost for the care of one ferret for three months, not including vet care $90.
A donation toward the care of the ferret is requested. The rescue has had many more surrenders than normal and funds are very low for new ferrets. The rescue receives no government funding and needs donations to stay open. All donations are tax deductible.
SURRENDER AGREEMENT
I have made the decision to surrender my ferret to Fuzzy Ferret Rescue. It is understood the ferret is being surrendered for its continued welfare and Fuzzy Ferret Rescue accepts the ferret in the condition it arrived in. Fuzzy Ferret Rescue assumes full ownership and responsibility from this date forward and guarantees the ferret will receive the utmost in care. Fuzzy Ferret Rescue operates this shelter program as a service to ferrets and is not a business. It does not receive any government benefits to pay for vet care, food or care of the ferrets.
Fostering a Ferret
As ferrets come in we need people to step forward and offer temporary homes for these animals. Become part of our foster care program and you could be the difference between life and death for animals that have been brought to an animal shelter that just does not have the facilities for ferrets. Most of the ferrets we get in are perfectly healthy and happy, but have been surrendered us for various reasons. These ferrets will need temporary homes to foster them. They will also need to be brought to our various adoption days we have at PetsMart, or an appointment can be made if a ferret was seen on PetFinder or our website.
Unfortunately, some animals that are brought into our shelters are too sick, too young, or not socialized enough to be adopted out. They could be excellent pets, however, once they are healthy, socialized, or just plain older.
Foster volunteers take these animals into their home, providing a safe environment for them to mature, become more socialized, or heal from an existing wound or illness. This can be an intense short-term commitment, but also a very rewarding one.
Need is especially great during the spring/summer season, when many ferrets that were purchased on impulse are brought to our shelters.
Be it known, adoption fees are considered to be donations to pay for food, supplies, medical attention, shots and etc. while in your care. No profit is accrued from these fees and can NOT be refunded.
Click for Boarding
>>>>>>>>>>>>>>>>>
EIN: 87-2371610
501(c)(3)
Needing to Surrender a Ferret?
Needing to Surrender?
Fill out the forms by clicking